More Profitable CENTUS Referral Program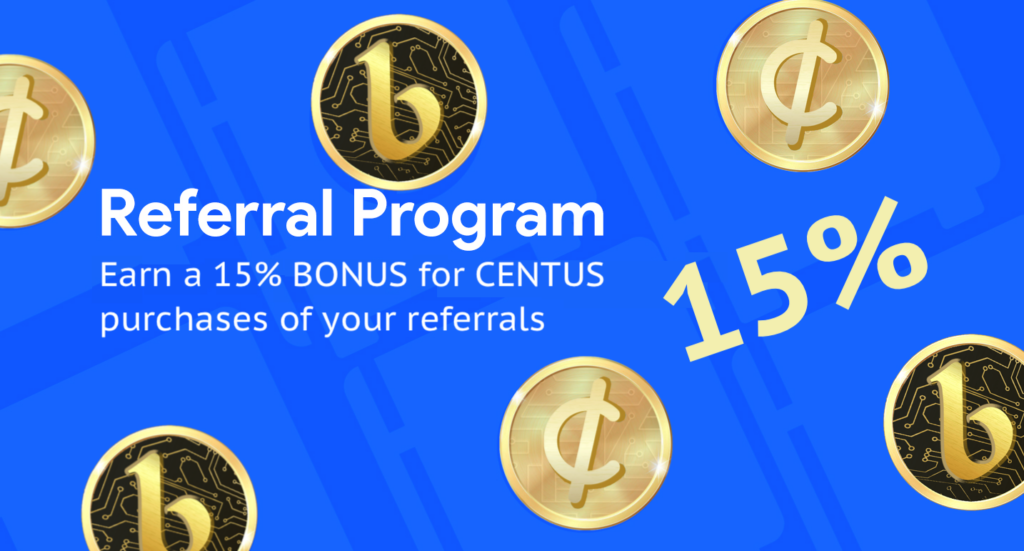 Referral BONUS
Now, the BONUS for CENTUS purchases of your referrals amounts up to 15% of a purchase amount. From this amount, you can sell:
10% CENTUS in one month;
5% CENTUS immediately.
The purchase amount should be no less than 1000 CENTUS.

10% CENTUS:
10% BONUS can be converted to CENTUS and transferred to your multisig account at any time with the possibility to sale in 1 month. You can also invest CENTUS to 1 month high-yield deposit and, additionally, get seigniorage at a rate of 11%.
5% CENTUS:
If your referral opens a 3 months irrevocable deposit, you will receive 5% of CENTUS amount invested. You can sell these CENTUS at a price of 100 CENTUS ≈ 1 USD at any time. Your referral additionally receives 5% cashback of 20% from you.
In addition, when your referral purchases at least 5000 CENTUS, you receive 20% of their profit.

Purchase BONUS
The maximum BONUS amount is 10%.
The amount of BONUS accrued upon the purchase of any CENTUS amount is 5%. This BONUS is accrued to all CENTUS buyers accounts regardless of the purchase amount.
When purchasing 5000 CENTUS (50 USD) and more, the BONUS amount remains to be at 2–5% of the purchase amount.
This BONUS can be converted to CENTUS at any time, provided that the converted CENTUS is placed in a 3-month deposit with increased profitability. After a deposit maturity date the CENTUS can be sold or left on the deposit at an increased seigniorage rate.
Learn more at https://centus.one/bonus-tokens/